Family-Owned Campground in Drumheller Alberta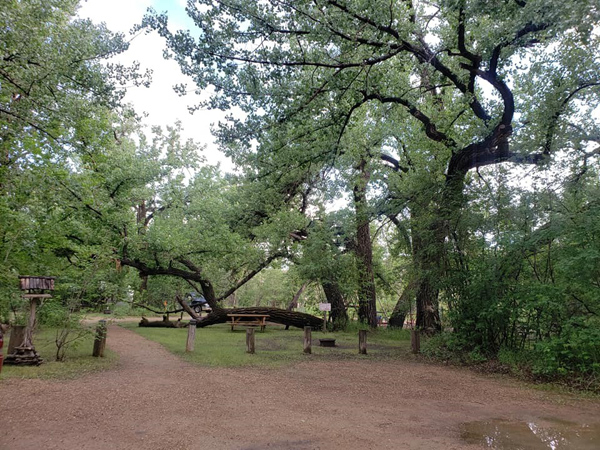 Making Outdoor Recreation More Fun
11 Bridges Campground, RV and Cozy Cabin Park is a family-owned and –operated campground in Rosedale, AB. We are located in the center of the breathtaking Drumheller Valley, nestled under giant cottonwood trees on the west side of the Rosebud River, just 5 minutes east of the town center. Serving locals and tourists for over 20 years, our RV park aims to make outdoor recreation all the more fun for you and your family.
Why Choose Our Campground?
Competitive Rates
Complete Campground Amenities
Excellent Customer Service
Payment Options
Free WiFi Available
Ice and Firewood Sold On-Site
Safe, Well-Maintained Camping Site
Reminders About Campsite Reservations
Payment due in full at time of reservation
Charges based on 2 adults and kids , extra adults are 10.00 dollars per person per night
Any cancellation is a 20.00 service charge on sites and cabins are 25.00, less than 5 days in one night camping fee or cabin rate.
Refunds can take 7 to 10 days
Long weekends, no refunds if less than 5 days and no show is full charges apply.
Our Campground Rates: Reservation hours are from 7:30 AM to 9:00 PM
Full-Service Sites: $55.00
Partial Service Sites: $50.00
No Service Sites: $40.00
GST will be added.
Our Campground Policies:
Check in time is 1 PM , Check out time is 11:00 AM . Checking out late will results charges .
Quiet time from 11:00 PM until 7:00 AM .
All reservations  must be checked in prior to 10 PM, No Exceptions
Music must be kept at reasonable levels and turned off by 11:00 PM.
Do not move the fire pits, toss butts, sunflowers, or peanut shells all over the site. A cleanup fee will be charged. Please keep your site clean .
Guests must register their visitors at the office and obtain a visitor's parking permit. All visitors must leave the campground by 10:00 PM. Vehicles without a registration tag will be towed at the owner's expense.
Children must be supervised in washrooms, and must never be left unattended.
Children must not be left unattended in the playground.
Portable toilets or "potties" must be emptied at the dump station only.
Pets must be leashed, under control, and attended to all times.
You are responsible for picking up after your pets.
Firewood cannot be gathered from the site's dead and downed trees and no outside wood allowed
Do not leave coolers or valuables unattended.
No generators allowed in park.
Inquire About Our Campground
Relieve your stress and improve your overall health by spending your vacation at 11 Bridges Campground, RV and Cozy Cabin Park. With our safe campgrounds, varying accommodation options, and affordable rates, camping with your family and friends has never been better. Should you have inquiries about our campground or our rates, give us a call or send us an email. Our staff members can accommodate you from Mondays to Sundays. Reservations hours are from 8:00 AM to 9 PM.