Relax and Enjoy the Beauty of Nature
*11 Bridges Campground, RV and Cabin Park is family owned and operated. We are located in the centre of the breath-taking Drumheller Valley, nestled under giant Cottonwood trees on the west side of the Rosebud River in Rosedale, just 5 minutes east of the Drumheller town centre.
Go on a Relaxing Camping Trip
Nothing beats marveling at the wonders of nature at a safe, well-maintained campground. Look no further than 11 Bridges Campground, RV and Cozy Cabin Park in Rosedale, AB. Having been in the industry for over a decade and a half, we guarantee to provide everything you require for an amazing camping experience.
*Our clean, modern bathroom facilities feature hot showers and flush toilets, and also a small laundromat.
We offer a firepit and picnic table at every site.
Firewood and ice available for purchase. Treated town water onsite
Our Campground Offers:
Our Campground Rates:
Full-Service Sites: $55.00
Partial Service Sites: $50.00
No Service Sites: $40.00
Cabin Accommodation: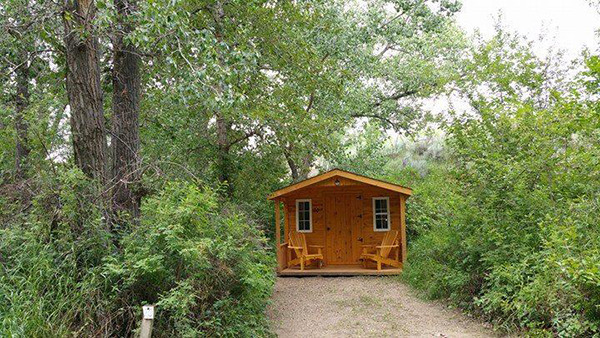 Queen and Twin Cabins are good for two people, Family cabin sleeps 4 (2 adults only and kids). Please bring top blankets for Queen and Twins and bedding and pillows for bunk beds
Our cabins cost $90.00 per night, 2 night min on weekends (GST will be added).
It includes the following amenities:
Bottom Sheets
Lantern
Pillow Cases
Pillows
Toiletries
Towels
Two Large Deck Chairs for the Patio
Cabins 14 and 17 have one Queen Bed
Cabins 16, 15, 18, 20 and 21 have one Queen Bed and a set of bunk beds for kids
Cabins 19, 22 and 23 have 2 Twin Beds
A cot can be added to any cabin at no extra charge
Pet friendly cabins available
No power or water. Fold-away cots can be added to select rooms.
No Service Sites: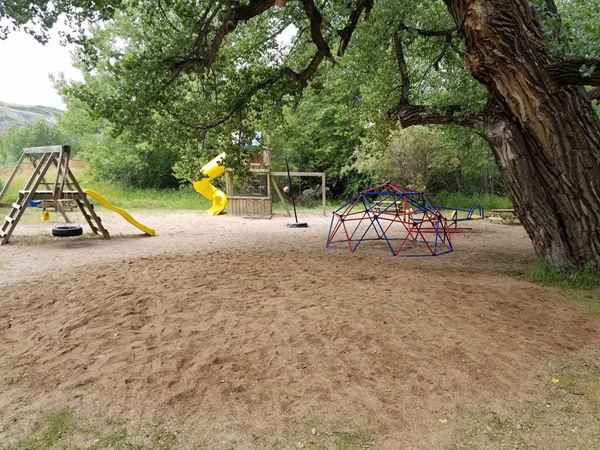 $40.00 for No Service Site
Check-In Time 1:00 PM
Check-Out Time 11:00 AM (late fees will be applied)
Our campsite offers complete facilities to make your trip more convenient. Among the amenities included are:
Clean and Modern Indoor Bathroom (Includes Hot Coin Showers and Flush Toilets) 
Dump Station on Site
Fire Pit at Every Site (Firewood is Available for Purchase)
WIFI available
Picnic Tables at Every Site
Playground
Small Laundromat and Dishwashing Stations
We offer Full, Partial, No Service , Cabins and Tenting Sites .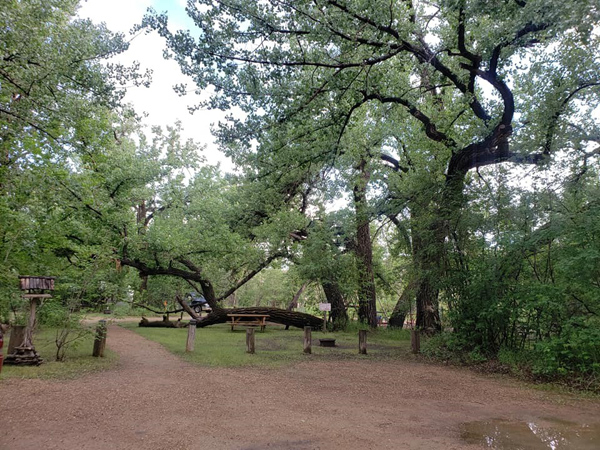 Sightseeing opportunities abound in the Drumheller area, and a stay of several days is not unusual. Popular activities in the area include golfing, hiking, mountain biking, horseback riding, fishing and tubing. A trip to the Royal Tyrell Museum , Canada's Dinosaur Museum is a must see!!
We offer full-service, partial-service, and no-service sites. Only one tent is allowed per site. Pets are extra.
Enjoy Sightseeing Opportunities
With the numerous sightseeing opportunities in the Drumheller area, it is not unusual to want to stay for more than a weekend. Embrace nature to your heart's content at our campground today. Popular activities in the area include:
Coal Mine Tours
Fishing
Golfing
Heli Touring
Hiking
Horseback Riding
Mountain Biking
Museum Tours
Tubing
When you want to experience the great outdoors, turn to 11 Bridges Campground, RV and Cozy Cabin Park. If you have questions or comments about our campground, don't hesitate to get in touch. You may reach our office by phone or email every day.